Az egyik e-mail címében továbbra is a szerepel, de van már egy második is. Ez a mostani névjegy pedig már nem is hasonlít a 2011-esre: több lazán egymáshoz kapcsolódó cégnév, honlapcímekkel. Mindez híven tükrözi, mi minden történt alig több mint négy év alatt szakmai életében.
Mindenképpen vissza kell legalább pár mondat erejéig nyúlni az induláshoz – hiszen az sem volt olyan régen. Az ausztriai lét Szilárd és felesége számára 2009-ben kezdődött, és mindjárt a Bogi Parkkal, ahol először pedagógusi és kozmetikusi szakképzettséggel rendelkező felesége kapott állást. Szilárd is itt helyezkedett el, s diplomás informatikusként beérte a "mindenes" munkakörrel. Az első nagy tanulság: aki belevág egy ilyen kalandba, annak szakítania kell a régi életével, és vállalni a teljes újrakezdést. Egyáltalán nem tartotta méltánytalannak, hiszen átmenetnek tekintette, hogy a napi 9 órás műszak után (animátorként dolgozott ekkor) még 2 óra takarítás is a feladatai közé tartozik: hiába beszél négy idegen nyelvet, a német ekkor még nem volt ezek között.
Márpedig – mondja ma – ez a minimum. Már csak a befogadó ország iránti tiszteletből is illik megtanulni a nyelvet. Nem beszélve persze a továbblépés lehetőségeitől- ezek Ausztriában aligha nyílnak meg a németül nem tudók előtt.
A Bogi Park, ez a jól felszerelt nagy játszóház ideális volt ilyen szempontból is. Legjobban a gyerekektől lehet nyelvet tanulni, addig ismétlik közlendőjüket, amíg a másik meg nem érti. Miközben tanult és tette a dolgát, nagyon figyelt. Nem hiába, rögtön támadtak ötletei ésszerűsítésre. Eközben egy percre sem feledte az ugyancsak boldogulásra vágyó magyar honfitársakat. Első terve, hogy t.i. a Bogi Park afféle magyar találkahely lesz, hírbörze és munkaközvetítő, néhány jó hangulatú rendezvény után sem sikerült, így Szilárd más utat keresett. Mire a nyelvet elsajátította, a tulajdonosokat már elkápráztatta jobbnál jobb elképzeléseivel – néha apróságokkal, amelyek a nagyszerű játszóház mindennapjait élhetőbbé tették. Nem csoda, hogy amikor az ügyvezető igazgató helyettesének posztjára jelöltet kerestek, rá esett a választás.
Ettől kezdve sokkal több lehetősége nyílt. Helyet keresve a rászoruló magyaroknak, felismerte, hogy nyelvtudás nélkül a legjobb lehetőséget a konyhai munka nyújtja. Ennél jobb indulásról senki nem álmodhat: az osztrák törvényeknek megfelelően bejelentett állás (14 havi fizetéssel), ráadásul Szilárd segített a lakás keresésben, a hivatalos ügyek intézésében, tanácsokat adott a minél gyorsabb nyelvtanuláshoz. Sok munkahellyel ellentétben ő szívesen vett fel házaspárokat. Feltétel? Csakis a lojalitás, a tisztességes munka, a becsületesség. A tíz-tizenkét hely persze hamar betelt, volt, aki máig maradt, mások ugródeszkának tekintették, mindenesetre a Bogi Park büféje, étterme is profitált.
Nem csak az alkalmazottakat biztatta persze kreativitásra és a továbblépés fontolgatására. Az ő első, a továbbiakat megalapozó ötlete mindenesetre a játszóházhoz kötődött. Pazarlásnak vélte, hogy az épület este hétkor bezár, miközben a tulajdonosok természetesen éjszakára is fizetik a bért. Mivel lehetne nyújtani a nyitva tartást? Felnőtteket kell idehozni – gondolta, és létrehozta az első bécsi Lasertag arénát. Persze ez nem volt olyan egyszerű, mint ez a mondat: bár a tulajdonosok boldogan biztosították a kedvező bérleti díjat, az engedélyek megszerzéséhez meg kellett győzni a hatóságokat, hogy azért ez a "háborús" játék mégsem igazi lövöldözés, hiszen a lézeré a főszerep! Szilárd főnöke, az ügyvezető igazgató szívesen alapított a feladatra – itt Szilárd az igazgató.
Hamar elterjedt a remek kikapcsolódási lehetőség híre:, talán azért is, mert ez az újszerű szórakozás csapatoknak, összeszokott társaságoknak éppúgy játéklehetőség, mint azoknak, akik egyedül vannak, és éppen társaságot keresnek.. Felmérve az igényeket a cég hamar megnyitotta a második bécsi helyszínt, és ma már Linzben, Salzburgban, Grazban is működtetnek termet.
Ha a felnőtt szórakozásra ilyen nagy az igény, akkor nem árt tovább gondolkodni – vélte Szilárd, és megkereste Gyurkovics Attilát, a szabadulós játék "atyját". A Magyarországon oly sikeres hungaricum Bécsben is hamar meghonosodott, a bevált recept szerint létrejött az osztrák Parapark-cég. Ez a sok leleményt és kitartást kívánó játék egyre népszerűbb, cégek tartják remek csapatépítési lehetőségnek, sőt még a legénybúcsút tartó társaságok sem bánják a kihívást. Szellemes honlapot készíteni Szilárdnak gyerekjáték, ez egyszerűsíti a helyfoglalást. Ma már linzi park is fogadja a bezártságra majd onnan kiszabadulásra vágyókat.
Megfelelő menedzsment biztosítja a hétköznapi működést, van ahol magyar a kisfőnök (például a Paraparkban), máshol osztrák. A lényeg, hogy jó csapat működjön mindenhol, ennek pedig a rátermett emberek kiválasztásán túl a motiváció a garanciája – mondja Szilárd. Nem mellékesen ez a magyarázata annak, hogy az ő energiájából és idejéből futja egyébre is. Ez a csapatmunka mellesleg a magánéletében is fontos: ahogy három évvel ezelőtt, most is hangsúlyozza, mennyi segítséget kap feleségétől, és ez milyen sokat jelent.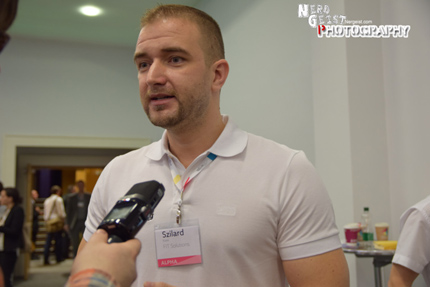 Nyitott az ötletekre. Így történhetett, hogy 50 százalékos tulajdonosnak beszállt az ajándéktárgyakat forgalmazó M-Pen cégbe, ami ugyan nem az ő ötlete, de jónak találja. Lassan beindul egy másik hungaricum elterjesztése (mégpedig nemcsak Ausztriában, hanem Európa szerte): Dublinban mutatták be abe a lakásétterem számítástechnikai portálját, és óriási sikert arattak vele, a befektetők körében is. Szilárd abból indult ki, hogy manapság az emberek, főleg a fiatalok egyre szívesebben osztják meg saját dolgaikat másokkal – az Uber az autót, az Airbnb a lakást, akkor miért lehetne a saját konyhában elkészült, otthon feltálalt étellel ugyanez a helyzet.
(Bár hungaricumról beszél, azt is elmeséli, hogy először Kubában nyíltak ilyen lakás-éttermek, szükségből, miután Fidel Castro a hagyományos nyilvános vendéglőket betiltotta). Az ú vállalkozás 2015 első hónapjaiban indul élesben, osztrák, német és persze magyar lakáséttermekre összpontosít – aztán majd jöhet a terjeszkedés. A koncepció persze nemcsak a jóféle házias koszt biztosítása a jelentkezőknek, hanem idegen emberek egy asztalhoz ültetése, hiszen egy ilyen lakásétterem intimebb légkört teremt.
A portál kifejlesztésében a Szegeden 2014 elején szoftver fejlesztőként bejegyzett, szintén Koós Szilárd nevéhez fűződő Futures IT Solutions KFT vitte a prímet, és aratott sikert a dublini világtalálkozón.
A Bogi Park egykori animátora/takarítója pár év alatt jó nagy utat tett meg, ma osztrák cégeinél 80 alkalmazott dolgozik. A játszóházhoz mindig hűséges lesz – mondja. Hiszen ez volt a kiindulás és innen jött létre a gazdasági alap a többi tevékenységhez. Utóbbiba jótékonysági akciók, rászorulók támogatása is beletartozik.
A Futures IT Solutions KFT referenciái
BOGI PARK Wien - AT
LaserMaxx Österreich - AT
ParaPark Österreich - AT
TK Maxx Entertainment - AT
Kéri Pharma - HU
MGB6 Project - HU
Rottapharm-Madaus - HU
The Fun Company - AT:
Amúgy pedig nem tartja ördöngösségnek a saját sorsát. Sőt. Hasonló lehetősége mindenkinek lehet, azoknak is, akik a játszóház kis éttermében kezdik ausztriai életüket. Egy kis kreativitás persze szükségeltetik. Az ötletekre, a vállalkozási elképzelésekre Koós Szilárd mindig nyitott. Külön hangsúlyozza: mindenkit vár és meghallgat, aki ilyesmivel rendelkezik. A 2014-es alapítási roham-év után mindenre van szabad kapacitás, ami beválhat, használhat. Az egyénnek és a közösségnek egyaránt.