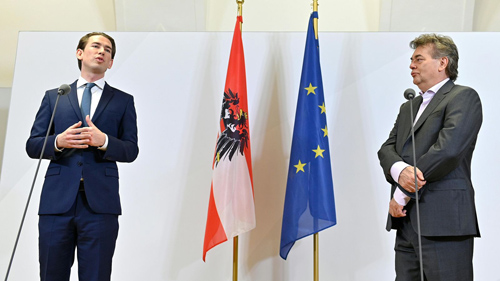 Már a kormány összetétele is figyelemreméltó. A választásokon a legtöbb szavazatot szerzett Osztrák Néppárt (ÖVP, a türkiz) a 14 minisztériumból tízet visz, a Zöldek, akik szinte a szakadékból küzdötték vissza magukat, és mindjárt a harmadik helyre, négy bársonyszéket - és egy államtitkári beosztást - kapnak, az alkancellári tiszten kívül. . Nem akármilyeneket: a pártvezér, Werner Kogler, aki automatikusan az alkancellár is, egyben a közigazgatás minisztériumát is vezeti, míg a hagyományosan a párt témájának számító környezetvédelem egy gigaminisztérium része lesz. Leonore Gewessler (nem mellesleg a Global 2000 korábbi vezetője) kerül az újonnan létesülő infrastruktúra minisztérium élére,amely a környezetvédelem mellett a közlekedés és az innováció témáját is lefedi, - mindkettő szorosan kapcsolódik a környezetvédelemhez. Ennél is izgalmasabb, hogy Ausztria történetében először egykori menekült is tárcát kap: igazságügyi miniszter lesz a bosnyák Alma Zadic, aki 10 éves korában menekült szüleivel Ausztriába a jugoszláviai háború elől, és itt végezte iskoláit, majd a jogi egyetemet Bécsben és New Yorkban. Ha nem is vezet önálló minisztériumot a Zöldek régi politikusa Ulrike Lunacek, de a feladatkörben hasonló kulturális államtitkári beosztást kapja. Ugyancsak régi politikus, Rudi Anschober tölti be a szociális és egészségügyi miniszteri posztot.
A Zöldek esetében nem feltűnő, hogy az általuk delegált kormánytagok többsége nő, az viszont meglepő, hogy Sebastian Kurz kancellár ezúttal szintén több nőt juttatott tárcához. A kancellár egyébként a sajtóval kapcsolatos kérdések felelőse is. Ausztria történelmében most először vezeti nő - Klaudia Tanner - a védelmi minisztériumot. Érdekesnek mondható, hogy az átmeneti időben oly sikeresen kormányzó szakértői kabinetből is tartott meg tárcavezetőt: külügyminiszterként például a nagy diplomáciai tapasztalattal rendelkező Alexander Schallenberget. Igaz, az EU-ügyek továbbra is a kancelláriához tartoznak. Ennek is egy hölgypolitikus, Karoline Edstadler lesz a felelőse. Újonnan létesül az integrációs minisztérium, amelynek élére ugyancsak nő kerül a 35 éves Susanne Raab személyében - ő Kurz régi munkatársa, a téma igen jó ismerője.
Fontos tárcák élén Kurz nem látta szükségesnek a változtatást: a gazdasági miniszter újra Margaret Schamböck, az oktatási Heinz Faßmann, és Elisabeth Köstinger visszakapja a mezőgazdasági minisztériumot. Háttérszerepéből előlép Gernot Blümel - a pénzügyi tárcát vezeti. A belügyminiszter a néppárti vezetésből került ki: Karl Nehammer eddig az ÖVP főtitkára volt.
A környezetvédelem fontosságát hangsúlyozandó a Zöldek vezette integrációs minisztériumban néppárti államtitkár is foglalkozik a témával: Magnus Brunner.
Egy kis statisztika
A kormányban a nők aránya meghaladja az ötven százalékot;
Hat miniszter még nem töltötte be a negyven évet;
Az átlagéletkor 45 év; a legfiatalabb maga a kancellár- 33 éves;
Az ÖVP miniszterei közül négyen újoncok a nagypolitikában, szakértői oldalról érkeztek;
A kormányban az egy Burgenland kivételével minden tartomány képviseltetve van.
Az új kormány tervei
A 300 oldalas kormányprogramot bemutatva Kurz kancellár úgy jellemezte a két párt közötti kompromisszumos megállapodást, hogy lehet "egyszerre védeni a határokat és a klímát is ".
Bár a terjedelmes dokumentum hosszas tanulmányozást igényel, Kurz szavaira nem nehéz megtalálni a magyarázatot, és az is tény: a Néppárt számára nem jelent igazi engedményt a környezet - és klímavédelem, mint ahogy Ausztriában a lakosság is elkötelezett e cél iránt.
A kormányprogram szerint 2030-ra Ausztria energiaellátása száz százalékban megújuló forrásokból fedezi energiaszükségletét, 2040-re pedig eléri a teljes "klímasemlegességet." Zöld követelést teljesít az a leírt célkitűzés, hogy nagyobb lesz az átláthatóság, kevesebb a titkosítható kormánydöntés.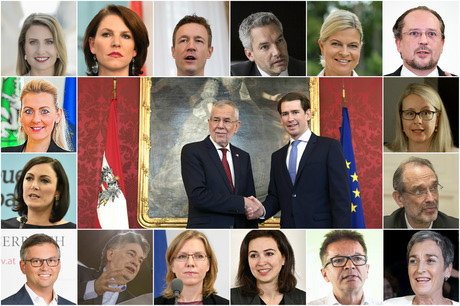 Az új kormány - Fotó: APA
A Zöldek mindennek fejében engedtek néhány kérdésben, de nem feltétlenül feladva elveiket. Igaz a migrációs politika szigorodik: könnyebb lesz a kitoloncolás és a kiutasítás, de kimaradt néhány a Szabadságpárt által kikényszerített rendelkezés. (Hogy menekülteket alacsonyabb bérérét is lehessen dolgoztatni, vagy kizárják őket a szakképzésből). Megvalósul az állami iskolákban a gyerekek fejkendőviselési tilalma, amit nem vallásellenességgel, hanem a gyermekek védelmével indokolnak.
Bár adóügyekben a Néppárt a hangadó, a Zöldek elérték, hogy a progresszív adóhoz az új kormány sem nyúl. De az adócsökkentések jönnek - igaz főleg az átlagnál jobban keresők hasznára. Hogy mikortól, azt jótékony homály fedi (ahogyan eddig minden hasonló ígéret esetében).
A szociális ügyek terén is sikerült megállapodni - marad a keresztény-szociális alapelv. Segítséget kapnak a hozzátartozóikat otthon ápolók - a maximum ezentúl 1500 euró havi segély lesz. Marad a 13. és 14. havi nyugdíj, a rendszer nem szorul kiigazításra. Emelkedik a gyerekek utáni támogatás minimális összege (250 euró helyett 350 euró lesz), igaz, a néppárti elképzelés érvényesült, és a jobban keresők nagyobb arányban jutnak állami segítséghez, vagyis a néppárti klientúra nem károsul. És ami Ausztriában igen fontos: a szociális minimál segély összegének megállapítása nem központi döntés kérdése, marad a tartományokban a helyi viszonyoknak jobban megfelelő elbírálás.
Hogy az öröm és boldogság, no meg a reménykedés jogos-e, az persze csak később derül ki. A megfigyelők többsége azonban úgy véli, a gondos és hosszas tárgyalások alatt kidolgozott program dicséretesen kiegyensúlyozott, olyan, mintha "pragmatikusok írták volna pragmatikusok számára."