A pártok képviselői elsősorban saját szavazótáborukhoz szólnak ugyan, de azért kicsit kikacsintanak a versenytársak szavazói felé is. A Osztrák Szabadságpárt (FPÖ) a Néppártot (ÖVP) akarja lekörözni, a Szövetség Ausztriáért (a bukott Strache csapata) az őt kiközösítő Szabadságpárttól venne el szavazatokat. A szociáldemokraták (SPÖ) győzelme ugyan aligha lehet kétséges, ám egyáltalán nem mindegy, a többiek között milyen arányban oszlanak meg a szavazatok, hiszen feltehetőleg ismét koalíciós partnerre lesz szükség. A Szabadságpárt számára pedig az országos mélyrepülés után most létszükséglet lenne bebizonyítani, hogy Bécsben számolni kell velük. A választási plakátokról készült galériánk, Elisabeth Schwindl felvételei itt tekinthetők meg: http://szervuszausztria.hu/galleries/pictures/38
A fő téma a lakhatás, a szociális intézkedések, a bevándorlók és a koronavírus kezelése. No, de ki mit ajánl?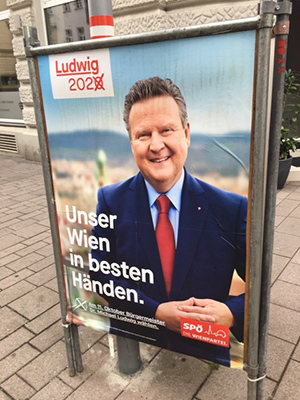 Ludwig marad? Elisabeth Schwindl fotója
A szociáldemokraták nem ígérnek kevesebbet, mint 4.000 szociális lakás megépítését. Nem kevés, de szerintük nem lehetetlen. Terveik szerint a lakásokat négyzetméterenként 7,5 euro bérleti díjért adnák ki – ami az igen drága albérleti piacon ugyancsak kedvezőnek tűnik. Ezzel nincs vége az építkezési terveknek: évente 50 millió eurót szánnak az iskolák felújítására, emellett pedig létrehoznának még egy központi szakiskolát – amely a szakemberhiány enyhítését szolgálná. Újabb – az ötödik - ötven férőhelyes anyaotthon építését is ígérik.
Szerepel még a programban a nők munkaidejének csökkentése, változatlan fizetések mellett.
Tizenhat egészségügyi központ létesítését tervezik, több orvost, ápolót, szülésznőt ígérnek.
A látszólag feneketlen bécsi kasszából a program szerint telne a diákok ellátására laptopokkal – ezzel kiváltva a nehéz iskolatáskákat.
Az Osztrák Néppárt (ÖVP) sem fukarkodik az ígéretekkel. A turizmus fellendítése révén több munkahelyet, a vállalkozóknak magasabb bevételeket ajánl. Gimnáziumokat építenének, és fel akarnak lépni az iskolai agresszió ellen. Az osztrák hagyományokra hivatkozva hoznának intézkedéseket. Például kizárólag keresztény ünnepeket tarthatnának az óvodákban, ahol csak németül jól beszelő alkalmazottak dolgozhatnának..
Csökkentenék a pártok pénzügyi támogatását, és átláthatóbbá tennék azokat. Kötelező nyelvi képzést vezetnének be olyan szülőknek, akiknek a gyereke nem beszéli elég jól a nyelvet. Előnyben részesítenék a szociális lakások osztásakor azokat, akik beszélnek németül, valamint korlátoznák a fejkendő használatát, és megállítanák a szociális rendszerbe történő bevándorlást.
Emellett non-stop nyitva tartó bölcsődéket, óvodákat terveznek.
A városi egészségügy megújítását, a várólisták csökkentését akarják (igaz, konkrétumot nem árultak el a hogyanról).
Továbbra is küzdenek a párhuzamos társadalmak kialakulása ellen. Ezeken kívül több piacot és a Dunán egy nagyszínpadot hoznának létre.
A jelenleg is koalícióban kormányzó Zöldek a bécsi önkormányzati választásra vonatkozóan teljes körű választói jogot adnának minden bécsi lakosnak. (Jelenleg osztrák állampolgárság nélkül csak a kerületi képviselőkre lehet szavazni). Heti 35 órára csökkentenék a tűzoltók, az egészségügyben és az óvodákban dolgozók munkaidejét, természetesen változatlan bérért. Ingyenessé tennék a bécsieknek a tömegközlekedést, és minden újszülöttnek ültetnének egy fát a városban.
A legutóbb Bécsben szép eredményt elérő – országosan inkább kispárttá zsugorodott - FPÖ, amely minden bizonnyal bejut a bécsi törvényhozásba, elsősorban a biztonságra törekszik, amit menekültellenességgel köt össze. Másfélezer fővel akarja növelni a rendőrség létszámát, és létrehozná a metrórendőrséget. Hazaküldené a jogsértő bevándorlókat, ezen kívül tiltaná a burka és a fejkendő viselését. Szociális lakást csak osztrák állampolgárok kaphatnának. (Ez az elképzelés ellentétes az EU előírásaival.)
| | |
| --- | --- |
| | |
| Az utolsó tévévita, az elefántforduló. Michael Ludwig (SPÖ), Dominik Nepp (FPÖ), Birgit Hebein (Die Grünen), Gernot Blümel (ÖVP), Christoph Wiederkehr (NEOS) és Heinz-Christian Strache (Team HC Strache) © ServusTV / Martin Hörmandinger | |
A liberális NEOS szintén laptopokat osztana az iskolásoknak, azonban a COVID-helyzetet máshogy kezelné. Kevesebb korlátozással és hatékonyabban. Ennek részleteit egyelőre homály fedi.
A bürokráciából leépítenének, mert szerintük akadályozza a gazdasági fellendülést. Létrehoznának 56.000 klímabarát munkahelyet.
Megválasztásuk esetén azonnal hoznának 100 gyermeket a görög menekülttáborok egyikéből, mert fontosnak tartják a humanitárius segítségnyújtást.
Támogatottsági adatok
A legutóbbi közvélemény kutatások alapján öt párt jutna be a törvényhozásba – s bár az előrejelzések napról napra kissé módosulnak, az SPÖ első helye egyértelmű. Van olyan felmérés, amely a Heinz-Christian Strache vezette új mozgalom bekerülésével is számol. Hogy az előrejelzések mennyire válnak valóra, az október 11-én késő este derül ki.