Az 53 éves Sabine Oberhauser 2014 óta töltötte be a kormány egészségügyi és nőügyi miniszteri posztját. Betegségét alig fél évvel hivatalba lépése után állapították meg, ám szinte mindvégig hivatalban maradt. Kezelésének egyes állomásairól, állapotáról a gyermekorvos végzettségű politikus folyamatosan tájékoztatta a közvéleményt. Néhány hónappal ezelőtt, amikor állapota rosszabbodott, elődjét, a szintén szociáldemokrata Alois Stögert kérte fel hivatali feladatainak ellátására.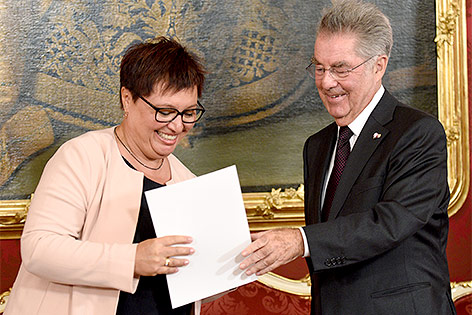 Heinz Fischer volt államfővel, 2014-ben
Oberhauser nemcsak végzettsége és környezete miatt - férje is orvos - volt abszolút kompetens az egészségügyi és szociális témában: miniszteri kinevezése előtt 2006 óta parlamenti képviselőként az SPÖ egészségügyi és szociális ügyi szóvivője volt. 2014 nyarán, amikor a kormányba került, először csak az egészségügy tartozott hozzá: neonatalógusként, általános orvosi szakvizsgával éveken át kórházban dolgozott, és elvégezte a kórházmenedzseri szakot is. Miután a nőügyi tárcát is megkapta, szisztematikusan dolgozta be magát a nőket érintő témákba.
Miniszteri tevékenységéhez fűződik a dohányzási tilalom bevezetése - ez a lobbik miatt Ausztriában minden más országnál nehezebben volt kivitelezhető. Másik fontos téma számára a családorvosi hálózat fenntartása volt, élesen szemben állt azokkal, akik az intézmény leépítését szorgalmazták.
Kern kancellár, Van der Bellen államfő, a kormány megannyi tagja, párthovatartozásra való tekintet nélkül szomorúan nyilatkoztak a nagyra becsült miniszterasszony haláláról - az Operabálon szokásos interjúknak így az idén különös hangulata lett.