– Neki mégis csak könnyebb lehetett, végül is rendezett körülmények között kezdhette ezt az új életet – mondhatnák azok, akik konkrét előkészítés nélkül vágtak neki, és aztán a helyszínen váratlan akadályokba ütköztek. Mondhatnák – de mégsem mondhatják, hiszen a "rendezett körülmények" sem maguktól lettek, másrészt Bencze Mariann még Budapestről állást találó férje mellett is nagyon megküzdött azért, hogy öt év után most már tényleg jól érezze magát. Az új élet megkezdése, a beilleszkedés ugyanis nem csak "a rendezett körülményeken" múlik.
Informatikus férje még Budapestről megpályázott állásokat, abban bízva, hogy az angol nyelvtudás ebben a szakmában elegendő Bécsben is. (Hogy miért éppen Ausztria? Közel van – mondja Mariann – és így a nagyszülőket nem fosztják meg teljesen az unoká(k)tól, valamilyen szinten és gyakorisággal a család összetartható).
A munkahely megszerzése után a lakásbérlést is még Pestről sikerült elintézni – nem közvetítővel, hanem a WU (gazdasági egyetem) levelezőlistáin...
Mariann (akkor még egyetlen) kisfiukkal hamarosan férje után költözött Bécsbe, a jövendő életről inkább csak annyit tudott, hogy mindjárt megszületik második kisfia, s hogy bölcsész diplomáival nem lesz könnyű elfoglaltságot találni.
Amikor aztán már kétgyermekes kismamaként (bébi)hordozási tanácsadásba kezdett (az ehhez szükséges tanfolyamot magyarul és németül is elvégezte) – ezt nemcsak az elfoglaltság miatt tette, hanem hogy jobban megismerje Bécset. Újabb tapasztalat várt rá: az otthon megszerzett német nyelvtudása nem az igazi – itt valahogy másképp beszélnek.
Ügyintézések tömege szakadt rá– ezekről külön beszámolunk majd, mert hozzátartoznak az otthonteremtéshez. Akkor még könnyű volt a három hónapos itt tartózkodás után a megfelelő feltételek teljesítése esetén hozzájutni az állandó tartózkodáshoz (Anmeldebescheinigung) – ma már ez is nehezebb, és a különböző szociális juttatások sem éppen automatikusan "járnak" – teszi hozzá előljáróban.
A két kisgyerek mellett az idő persze elment mindezzel, és Mariann annyiban is szerencsés volt, hogy otthoni munkáját folytatva Bécsből is szerkeszthetett gyermekkönyveket, de tudta: ha be akar itt illeszkedni – és persze szeretne –, akkor nem ártana minél előbb itteni munkát, megfelelő elfoglaltságot keresni.
Részmunkaidős feladatok adódtak, de egyik sem volt az igazi – mígnem rátalált a bécsi magyar oktatási lehetőségekre, ahol (magyar szakos diplomája miatt) szívesen fogadták. (A magyar nyelvű tanulási lehetőségekre, Mariann tapasztalatai alapján még visszatérünk.)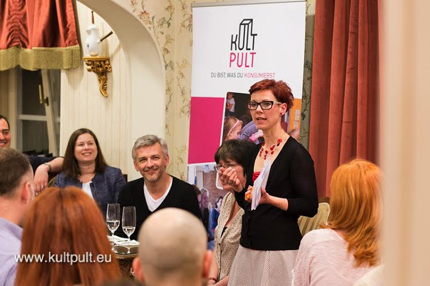 A legtöbb kitelepült magyar családnak fontos a gyerekek oktatása – vagy azért, hogy ne felejtsék el anyanyelvüket, vagy, mert még nem tudni, később nem térnek-e haza. Mariann számára azonban az is kellemes felfedezés volt, hogy a vegyes családok osztrák tagjai is előbb- utóbb nekiveselkednek a magyar tanulásnak, vagyis többszörös az átjárás – márpedig a felnőtt-gyerek és az osztrák-magyar reláció egyaránt izgalmas kihívás, ráadásul értelemszerű a kapcsolódás. Ahhoz pedig ugyancsak rövid idő kellett, hogy kiderüljön: nem csak a nyelvről lehet szó, hanem a két kultúráról: olyan közösség formálódik itt, amelyik szívesen fogadná be a magyar kulturális élményeket. A magyarokat a nosztalgia és a megszokott színvonal utáni vágy hajtja, az osztrákokat a kíváncsiság.
A kulturális menedzsment mindig is Mariann kedvenc foglalatosságai közé tartozott, így nem tartott soká, amíg összehozta az első gyerekkoncertet. Gryllus Vilmos tavalyi sikere újabb előadások, programok szervezésére ösztönözte, a siker és érdeklődés láttán pedig megszületett az elhatározás: ezt most már ne a "tanár néni" szervezze, hanem legyen belőle önálló vállalkozás. A név választása pedig rögtön érzékelteti, hogy Mariann régi szenvedélye, a könyv sem marad ki – felolvasó estek-délutánok, vagy éppen a Janikovszky emlékkiállítás "importja", a kortárs magyar irodalom népszerűsítése- könyvárusítás az ugyancsak általa létesített webshopban, szóval egyre szerteágazóbb tevékenység. Mint például legutóbb a Szamos cukrászdában megtartott Alföldi Róbert-Csáki Judit beszélgetés, amelynek közönsége be sem fért a terembe, így meg kellett ismételni.
Mindez leírva sem egyszerű, a szervezés azonban az elképzeltnél is bonyolultabb, hiszen helyszín kell, alkalmas – és rendelkezésre álló – terem. Mariann ismeretségi hálója egyre szélesebb, a kívülálló számára úgy tűnik, kimeríthetetlen az energiája és az ideje. Az újabb kapcsolatokat sok forrásból szerzi. Az ugyancsak alig pár éve bécsi gyökeret vert Loffice magyar üzemeltetői
hasznos és kellemes ismeretség: Klementz Kata első pillanattól kezdve nagy súlyt fektetett a közösségi irodahasználaton túl a rendezvények, előadások szervezésére, kiállítások rendezésére, így ez a helyszín is szerepel a KultPult lehetőségei között.
De a kultúra terjesztése, közösségek kialakítása, az oktatás még mindig nem minden, ami az egyéni vállalkozóként működtetett KultPult feladatkörébe illik. Mariann- kommunikációs szakon szerzett végzettsége (PR & Marketing) és tapasztalatai okán – azon is dolgozik, hogy átadja (esetleg saját kárán szerzett saját) tapasztalatait, és azoknak az elérhetőségét, akik átsegítenek a kezdeti nehézségeken. Tény, hogy ma már az interneten is sok minden megtalálható, nincs olyan szakma, amelynek magyar képviselői ne szerepelnének egyik vagy másik névsorban – de mégis más, ha tapasztalati alapon irányítják a kérdezőt pontosan oda, ahol a legjobb tanácsot kapja.
Ezért aztán a KutPult várja mindazokat, akiknek ilyen típusú kérdésekben segítségre, szakmai tanácsra van szükségük. És persze egy másik kört is szívesen fogad – azokat, akik a kulturális munkát tudnák támogatni. (következő cikkünkben néhány általános információt osztunk meg az olvasóval – Bencze Mariann tapasztalatait felhasználva.)