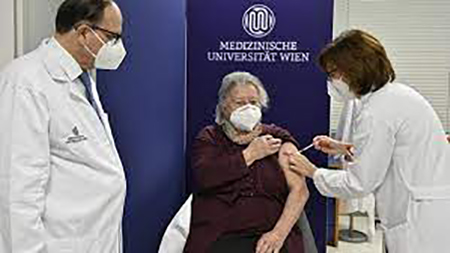 Kép: Med-Uni-Wien
Közismert, hogy a trombózisos esetek miatt az EMA felülvizsgálja a ritkán, de előforduló trombózisos eseteket. A március 26.-án hematológusokból, kardiológusokból és virológusokból létesített szakértő csoport a napokban terjeszti elő frissített szakvéleményét. Az gyógyszerügynökség januári vizsgálatai alapján a vakcina biztonságos és hatékony. Az oltóanyag a vérrögképződés kockázatát nem növeli, bár mint minden oltás esetén vannak kockázati tényezők, azonban ezek mértéke messze eltörpül a szer előnyeivel, hasznosságával szemben.
Ausztriában egy 35 éves ápolónő kapott tüdőembóliát az oltás másnapján, amelybe bele is halt. Az EMA azonban megállapította, hogy nincs összefüggés a két dolog között,- ha lenne, akkor ennél jóval több beoltottban keletkezett volna érelzáródás- ugyanis spontán rögképződés történt.
Számos ország –többek között Németország is- feloldotta az átmeneti tiltást. A szakértők szerint az AstraZenecanak inkább elfogadtatási problémája van az emberek körében. Nem bíznak benne kellő mértékben ahhoz, hogy további tömegeket lehessen oltani vele. Feltehetőleg ezért is van szükség újabb vizsgálatokra, hogy az emberek megnyugodjanak az oltóanyag biztonságosságát illetően.
És persze nem árt a széleskörű tájékoztatás, vagyis ismertetni kell azokat a híreket is, amelyek szerint például Finnországban, Izlandon és Svédországban inkább az időseket szeretnék oltani vele. Az osztrák sajtó idézi Agners Tegnellt, Svédország főinfektológusát: "Az AstraZeneca nagyon hatékony oltóanyag, amely a tapasztalatok szerint az időseknél nem okoz komoly mellékhatásokat."
Az időleges felfüggesztés annak tudható be, hogy a fiatalabb korosztályoknál egyes esetekben voltak komolyabb mellékhatások – a kételyeket csakis a további vizsgálatok oszlathatják el.
Ausztria Szputnyikot akar?
Az osztrákok 69 százaléka azt szeretné, hogy a kormány vásároljon az Oroszországban gyártott Szputnyik V vakcinából. Érdekes viszont, hogy ennek ellenére nem feltétlenül oltatnák be magukat a készítménnyel. 12 százalék szerint egyelőre csak vásárolni kellene, beraktározni és megvárni az EMA vizsgálatainak eredményét.
A Szputnyik V – egy-két országot leszámítva – komoly ellenállást váltott ki Európában. Az ok igen egyszerű: Az oltóanyag szükséges tesztelésének 3. fázisát csak most fejezték be az oroszok - szerencsére jó eredményekkel - miközben már lassan fél éve oltanak vele és árulják is. Az osztrákokat minden bizonnyal meggyőzi, hogy úgy tűnik, igazuk van azoknak, akik nem vártak a nyugati vakcinára, hanem vállalták az orosz oltóanyagot: a 3. kontroll fázis pozitív lezárása után az oltóanyagnak jó esélye van, hogy elfogadja az EMA is.